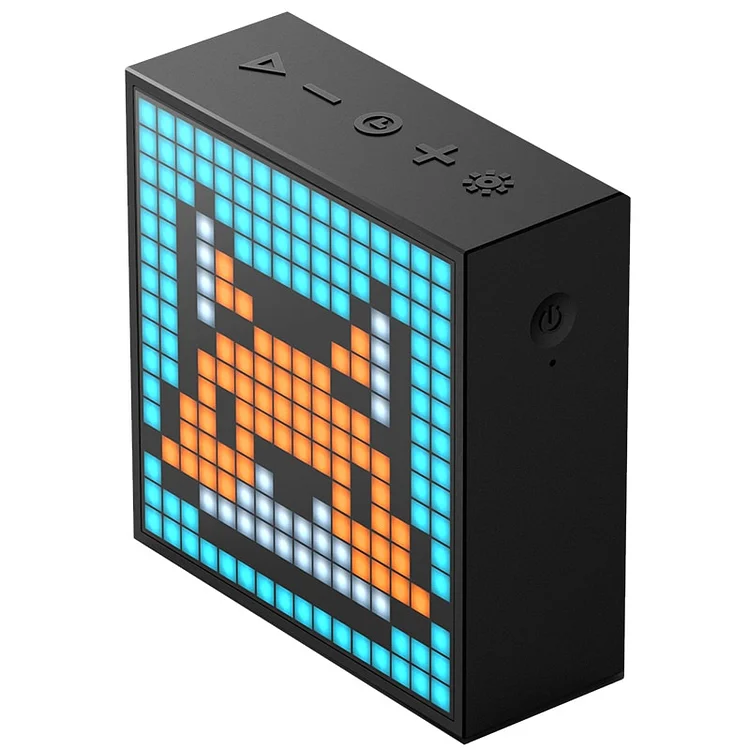 Toytime is a new brand, we focus on providing happiness and joy to everyone! We have diverse playing toys and gadgets such as RC toys, fidget toys, educational toys, party toys and so on. We are always ready to offer you the best products with considerable services.
Great Audio in Small Size
Powered by 6W driver and latest DSP processor. With extra bass port,Timebox Evo delivers a fine-tuned audio experience.
Pixel Art Creation
Pixel art creation on the Timebox-Evo is so easy and fun. You can take and convert a picture instantly into a pixel art design, or you can make pixel art animation as well. share your artworks in our community in the free app---Divoom. enjoy the funny pixel art world now!
Daily Alarm Clock
Start your morning with 14 built-in daily alarms with highly-customizable options. Both audio and light on your Timebox-Evo will come on gradually to imitate the actual sun rise scenario.
Unique Personal Gift
Customizable voice and logo give you a chance to bring a big surprise to your beloved one. Express your love in this unique and modern way.
Be a DJ Master
Timebox-Evo is also a mini DJ turn tables. 96 different sound effects, 23 independent audio instruments, and record ability; it' s time for you to show off that music talent!
Premium Home Decoration
No matter in the dining table, bedroom desk or office. Timebox-evo could be a useful decoration for weather report, social media notification and daily clock presentation.
Buttons Instruction
Button 1: Play/Pause.
Button 2: Decrease volume.
Button 3: Auto power off timer
Button 4: Increase volume
Button 5: Change lighting
Button 6: Power button.
Button 7: Microphone.
Specifications
Dimensions: 98.5L x 98.5W x 38H mm
Driver size: 2'' full range
Output power: 6W
Signal to noise ratio : ≥75dB
Battery Capacity : 2500 mAh
Battery Voltage : 3.6 V
Battery Charge Time : 3.5h hours
Playback Time: Up to 6 hours
Bluetooth compliant: Bluetooth V5.0 smart
Weight: 316g
Frequency Response: 95-20K Hz