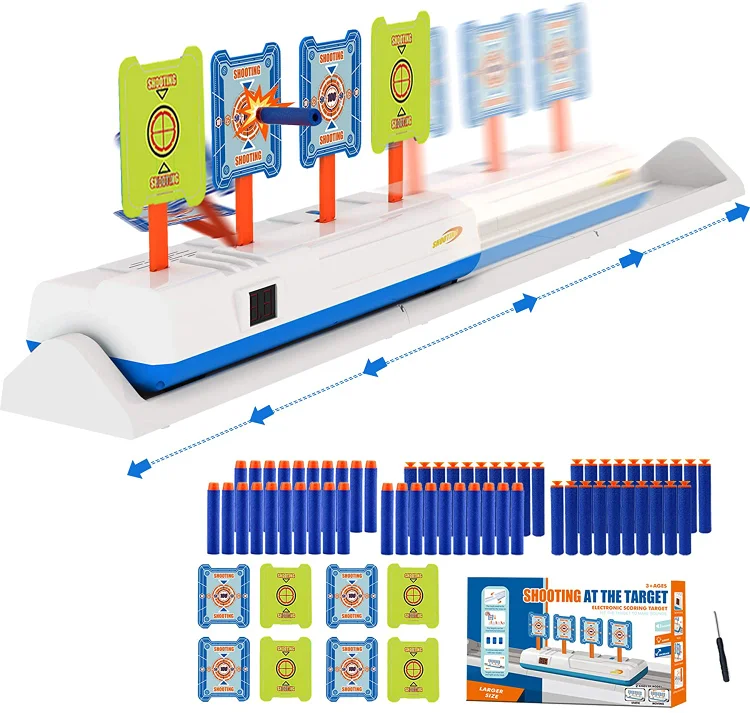 Toytime is a new brand, we focus on providing happiness and joy to everyone! We have diverse playing toys and gadgets such as RC toys, fidget toys, educational toys, party toys and so on. We are always ready to offer you the best products with considerable services.
ToyTime Floating Moving Targets Electronic Auto Reset Targets for Nerf Guns - 2021 Version


" The best target forever !" 


Features:

- MOVING SCORING TARGET, PROVIDE MULTIPLE CHALLENGES AND FUNS

The targets move back and forth on the track, and kids can shoot the targets for shooting practice. When all four targets are knocked down, they all pop back up together. This digital target keeps auto-scoring how many targets you knock over. You can turn off the moving mode, or make the track longer or shorter depending on the ability. Kids will enjoy hours of fun trying to shoot the targets, making it challenging and fun for them.


- 2021 UPDATED EDITION, BETTER DESIGN & QUALITY

Design with white, blue, and orange, the classic color scheme for nerf guns. Perfect gun targets for Nerf N-strike Elite Series, Nerf Mega Series, and Nerf Rival Series. 4 non-slip mats added to the base, do not slide freely when the target hits. The included screwdriver accomplishes the installation job easily.


- REAL SHOOTING EXPERIENCE, LOTS OF FUN FOR KIDS

When Nerf gun bullets hit the targets, they will fall fast and simulated gunshots and glass broke sound effects. It is the reward for being accurate! This creates a realistic atmosphere of gun battles that children find pleasure in. From our experience, even adults will get in on the fun.


- WITH 2 PAIRS OF DIFFERENT TARGETS SURFACE, 60PCS FOAM DARTS, GREAT FOR KIDS SHOOTING PRACTICE "COMPETITION"

Our electronic shooting target comes with 8pcs targets, 2 different patterns printed, so kids mark their target while having competition. Kids can compete against their siblings or besties for the highest score without arguing. It comes with 60pcs bullets for nerf guns. This target for shooting practice gives the kids something to shoot their nerf darts towards rather than each other.


- DURABLE&SAFE FOR KIDS PLAYING, BUY WITH HASSLE-FREE
Our 2020 electronic target is made of eco-friendly ABS plastic, non-toxic, non-deformable, children can play it anywhere! Enjoy it a lot!Idea gift toys for 3, 4, 5,6,7,8,9,10,11,12,13 year kids, boys and girls. If quality problems are found, we provide a free replacement or full refund.