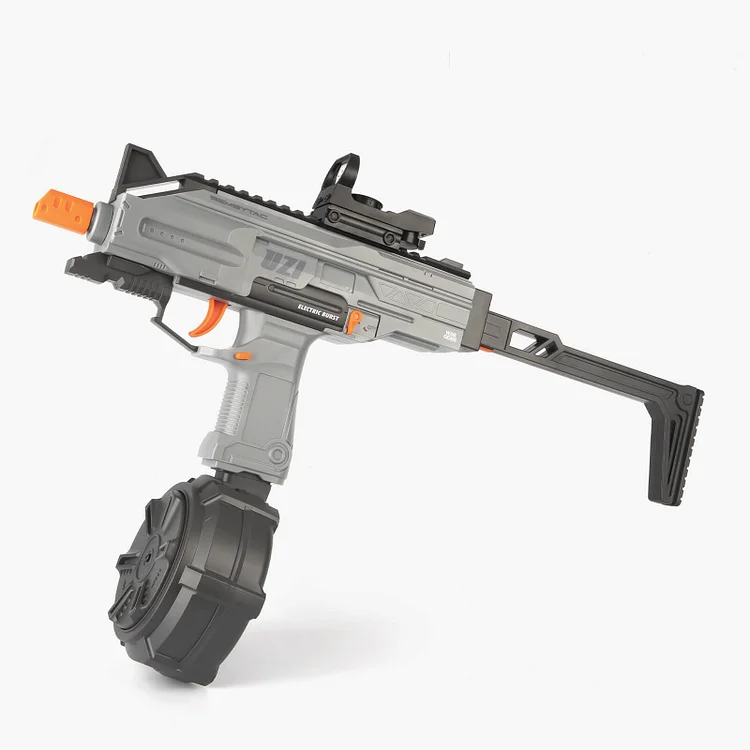 ToyTime 2023 New MP7 Gel Blaster
Description
This gel ball launcher's shape design is inspired by the UZI MP7. The overall weight of this MP7 gel blaster is 1.5kg, and the gray cyberpunk shape is complemented by a plug-in magazine that exudes a sense of futuristic technology. It also has a very good shooting performance, with a shooting distance of 82 feet and a shooting frequency of more than 20 gel balls per second. Second, its fully automatic shooting mode is paired with a larger magazine capacity, there will be a longer use time after each replenishment.
This gel blaster comes with two different kinds of magazines, a standard plug-in magazine, plus a drum mag with auto rotation bullet loading function, more accessories, and more fun. It shoots a safe and soft gel ball after soaking. After soaking for 4-6 hours, this water-filled gel bomb can expand to a diameter of about 7mm. A superior and safer alternative to the airsoft gun that is also more child-friendly.
Features:
Ammo Size: 7 – 8 mm
Weight: 1.5kg
Firing rate: >20 gel balls/ second (11.1v)
Shooting range: >25 m (11.1v)
What's in the box:
1 x UZI Gel Ball Blaster.
2 x Magzine
1 x Packet of Gel Balls (10,000 PCS)
1 x red dot
1 x Gel Ball Combat Goggles
1 x Rechargeable Battery
1 x USB Charging Cable
1 x install pamphlet
Note: It may take about 3-4 weeks for delivery.